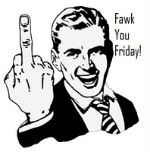 Hosted by the lovely J from
Boobies, Babies, & a Blog
and Christy from
My Mad Mind
. Fawwwwk yeah!
***This post contains mild language.
Unless you consider "fawk" to be coarse...then I guess you're fawked (duh-dun-tssss!)
***
Fawk people who think I have no life. Don't think that just because I've got three gremlins and baking another I just sit at home all the time.
...Ok. So I usually do. But not all the time. Not lately. But I'm not just gonna drop what I'm doing on a whim because you decided to wait until last minute to ask. I need a warning. In the words of Loto Ball from The Phantom Limbs, "Dammit I've got plans that I don't even know about". Call me an asshole, I guess...
Fawk you guy for buying the house next to me, fixing it up, and renting it out. It hasn't happened yet, but there were already people looking at it... Soon, I can't enter my kitchen without wearing pants. Ha-rumph!
Fawk my skin right now. Lately, my face has begun peeling. It's not a sunburn, because I don't tan. It's hormones. My nose has begun peeling/flaking so badly. Its now spreading to around my mouth. My skin has become more oily than usual (when it rarely is). And when I wash my face, it dries out...so I apply moisturizer, but then my face gets oily again. It's a vicious circle... This happened mildly when I was pregnant the last time but not this bad. I'm really at a loss of what to do right now... =[
Fawk you ants for breaking into my sugar. And fawk you for crawling up my arm and causing me a damn near heart attack. I have a phobia of too many legs attached to one, bitey mouth... While I can *somewhat* tolerate butterflies because they don't really have a mouth. I had three of those little freaks try to take my arm off this morning. I then spent the next few hours randomly slapping, brushing, and scratching myself (you should see it when I see a spider or centipede :gag!:). All I wanted was a cup of coffee...Now I have to drink it black. Even writing about it makes me itchy...
Fawk me for leaving my lotion out. I co-sleep with my youngest and this morning she woke up very quietly. I awoke to farty noises which I immediately realized was the lotion. All over the baby, all over the couch. =/
Other than that though, it's been a pretty good week, and I've been much happier now that I've gotten off my personal Facebook page. I'm starting another one, mostly so I can keep up with my blog fan pages. Blogger's reader hasn't been keeping up with your posts...