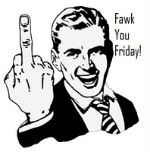 This week hasn't been too bad....But Dan's been home all week with a sprained ankle, and I woke up cranky this morning. I
shouldn't have
...but I did.
I'm blaming this partially on the fact that I've had to wake up at 6:30 everyday since Tuesday. I'm not used to this shit. I honestly miss Dia being home schooled and me getting to wake up whenever the hell I wanted. But that's it, really. Her school's been great so far. I just don't particularly enjoy waking up at that time when I am still having mild insomnia (although, thankfully, it's not as bad as it was).
Fawk my husband (expect this every week). Back when we first started having kids, we agreed that whoever had to get up first got to sleep, while the other would wake up at night to take care of the kid. Well, I didn't work then, didn't have a kid in school, and we didn't have a whole army of kids then either. But, guess who was still sleep deprived when they had to get up at twat o'clock even when he didn't have a job and it was me working? Guess who's still getting up at 6:30 am even though he's been off work all fucking week? Quit acting like you're more important than I and wake the fuck up. Cuz when I see you there, drooling all over your pillow, it makes me want to rip it out from under you and suffocate your face with it. I already told him this shit is gonna stop when the baby comes.
My advice to women considering the same deal as I made? Don't agree to it...It only creates resentment and arguments. Granted, there's been times when he
has
gotten up with them, but honestly, it's not been enough.
And btw, I've been working on the next installment of my cloth diapering tips, but it's taking a bit longer because I think too much about what I want to say. This is also why it takes me so damn long to reply to comments. Fawk my OCD...