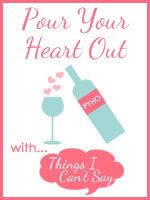 I am not one who finds it easy to talk about my feelings. Not the superficials of health, music, etc. I'm talking about
deep
feelings. The things that have affected me profoundly; the things I'll probably carry with me for years or even the rest of my life. It just doesn't come natural to me. I will generally avoid it at all costs or minimalize it when forced to confront them. I'll shove it aside in an effort to placate what few relationships I have left.
Is it to save them? Us? Myself?
I haven't figured it out yet.
Instead, I write. I used to keep journals of these hidden feelings. Sometimes scrawled in rage and frequently tear-stained. Once I got married, I stopped for fear of my husband finding them. A lot of changes happened within the first two years of our relationship; we moved around a ton and our first child was born. Most of my notebooks are stashed away in a garage. The few I started up again frequently got commandeered by my children. Scribbles of trees and my children's names replaced the tear soaked feelings that quite often consumed my teen years.
I stopped writing. Almost all of my poems are gone. I used to be really good at it. I still struggle to get back that creativity I prized so much. It was my release...my therapy.
While I love looking back at my children's early drawings, I still miss mine.
Which is why I turned to blogging. I can finally start writing again without worry of Kool-Aid stains or it getting lost.But, I am still struggling to recapture my voice. I still cannot get that same feeling of release as I once did.
Which is why I'm thankful for your blogs and memes such as Pour You Heart Out (courtesy of
Things I Can't Say
). As you may or may not know, this pregnancy has had me hermitting myself away, isolating myself from what few relationships I have left. However, in my isolation, I have begun to confront feelings I thought had been resolved, but usually remained dormant. In one blog of note,
Lost and Forgotten
, I have made some
profound breakthroughs
(in the comments, I posted as Mea F (@Mme_Guillotine). I thought I had completely come to terms with things...Other blogs, like
My Mad Mind
and
Names Will Not Be Changed to Protect the Innocent
have helped mein ways I cannot begin to count. And others still, like
Elohssanatahw
and
Boobies, Babies and a Blog
(among
countless
others) have given me a good laugh when I've needed it.
Yet frequently, I will start to comment on your posts, but delete them for fear of it being misinterpreted in a multitude of ways (in meaning, in intention, etc.).
While we may never meet, nor will I ever be able to pick you out in a crowd, and you may or may not see this...Thank you. Even if I haven't mentioned you, or have yet to discover your blog, your writing has more influence than you know...